EV Repair & Service near Cerritos CA

From no longer needing to make stops at the fuel pump to limiting emissions, there are many benefits to driving an electric vehicle (EV). To get the most out of your EV, our Norm Reeves Superstore team is here to help with any routine services or repairs your car needs.
Learn more about some of the key services you'll need for your EV and how our pros can help any time you need electric vehicle repair and service near Cerritos, CA.
---
Routine Care for Your Electric Vehicle
There are routine services every car needs from time to time to continue performing at its most efficient, smoothest, and safest capabilities. That includes your electric vehicle. While you'll have the benefit of not being concerned about certain services gas-powered cars need, like oil changes, you'll want to make sure you get these following services routinely performed on your EV:
-Tire rotations and replacements
-Cabin air filter replacement
-Brake fluid change
-Windshield wiper replacement
Luckily, our team can handle all these services and get them done for you quickly! That's because they have extensive training and experience, meaning they know exactly how to perform these services since they have done so countless times before.
This ensures your car gets the regular care it deserves to provide optimal performance. Plus, it's completed quickly and efficiently so you can stay on schedule for your plans and appointments for the day.
---
How Often Do I Need to Service My Electric Car?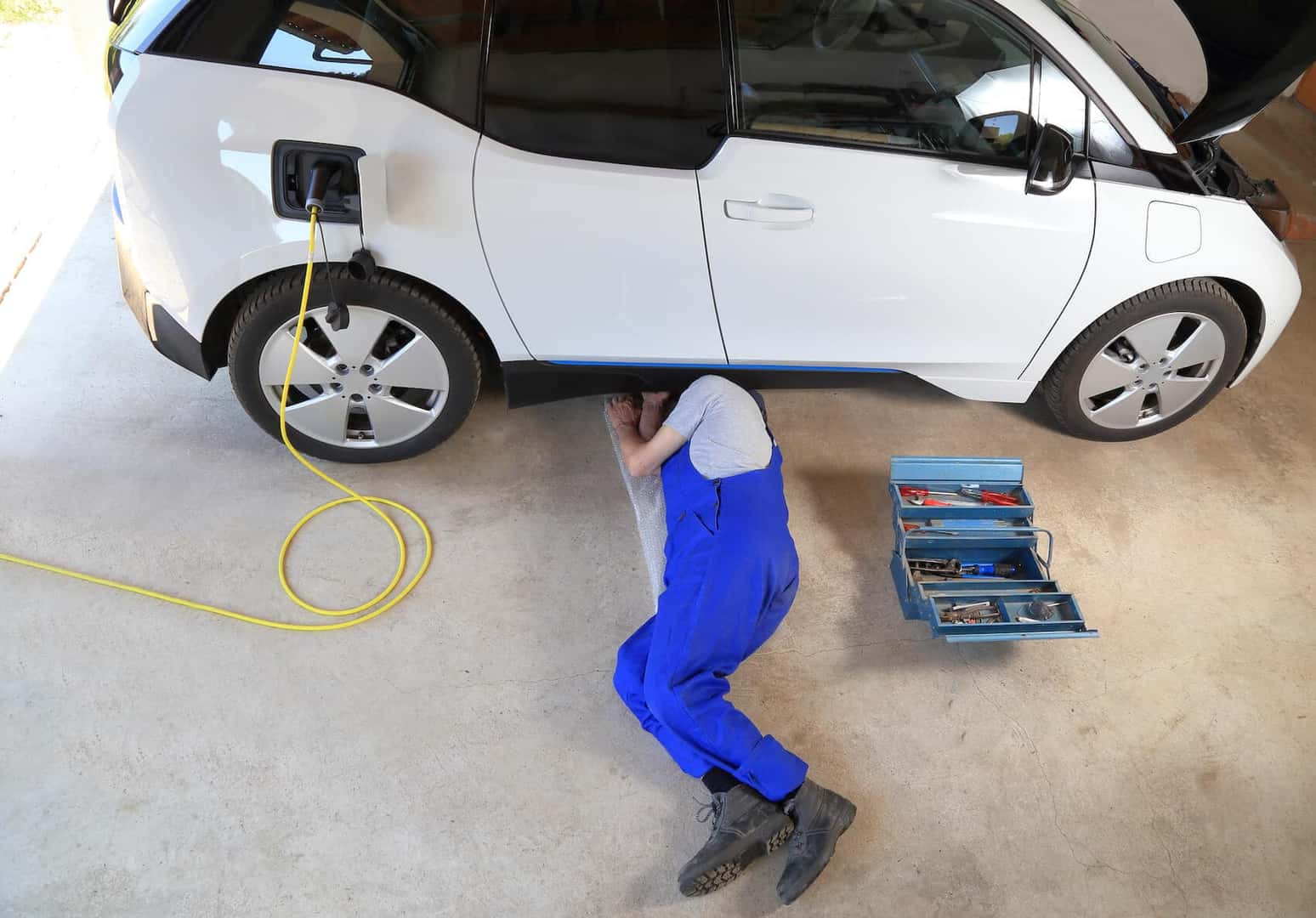 Another reason why many drivers enjoy making the switch to an electric vehicle is the minimal amount of maintenance required compared to their gas-powered counterparts. Of course, it's still crucial to get the services mentioned above taken care of at the right times.
Just how often should you bring your EV by for service? By simply stopping by twice a year, you can ensure your vehicle continues operating at its best. Staying on a schedule of at least two visits a year to our service center can help you stay ahead of any issues. That way, you'll be more proactive than reactive when it comes to your vehicle's overall performance and condition.
Our technicians will use their expert eyes to thoroughly inspect the various systems and parts of your vehicle to ensure everything is in great shape when we hand the keys back to you!
---
Repairing Your Electric Vehicle
At times, the unexpected can happen. That may be a fender bender or you suddenly notice an issue with a certain system or part within your vehicle. This is when it's nice to have a place nearby with an expert team to fix any issues you're experiencing with your vehicle.
With the help of our certified technicians, you can have the peace of mind they'll resolve whatever car troubles you're having and will get your car back to performing at its best. They have the latest tools and equipment, too, so they can quickly diagnose the cause of any issue with the charging system, the battery, or one of the interior features. Then, they'll let you know exactly what they'll do to repair it and get right to work on your car!
---
Schedule Electric Vehicle Service near Cerritos CA
Whenever it's time to have your electric vehicle serviced or repaired, you can count on our Norm Reeves Superstore team! Just contact us today to schedule your electric vehicle service near Cerritos, California.
---